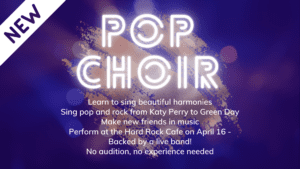 We are so excited to announce Performance High's first-ever Pop Choir, coached by vocal teacher Joe Mondragon!
This is a great opportunity to make some new friends and learn to sing beautiful harmonies in a low-pressure, collaborative environment. The best part is, no experience or audition is required!
Participants will learn pop and rock songs by artists ranging from Katy Perry to Green Day. The multi-week class will end with a performance at the Hard Rock Cafe, backed by a live band!
Visit this link for more details or to register. https://performancehigh.net/pop-choir/