Top-Notch Training For Contemporary Vocalists
To help our clients gain opportunities in the industry, we help them develop unique voices inspired by their favorite pop, rock, blues, R&B, country, metal, Latin, and musical theatre singers using modern, healthy, science-based vocal methods.
Our highly experienced and educated teachers – who all sing and perform contemporary music themselves – understand how healthy contemporary singing differs from classical singing.
A Focus on Continuing Education
We are involved with the International Voice Teachers of Mix, a pioneering organization that brings together voice scientists, medical professionals, and voice teachers to further knowledge of healthy and effective usage of the singing voice.
Our vocal teachers participate in both internal and external ongoing education to keep up with the rapid developments in vocal science advancements that have accelerated in the last couple decades. 
They also meet regularly to share techniques and help each other grow. This keeps our teachers inspired, and makes our clients' lessons more varied, interesting, and effective.
Learn How To…
Sing across your whole range without a break 
Sing higher and lower than you can now
Get more power and resonance with less strain and tension
See consistency in your voice, from note to note and day to day
Improve tone
Be more expressive and artistic
Sing appropriately for your genre and personality
Polish pitches, riffs, and runs
Harmonize
Develop your unique sound
All of our faculty members are active working musicians, so our clients get real-life training and education in what it means to be an artist in today's musical landscape.
Committed to Teaching
Some music and voice teachers teach as a backup plan – their own performing careers take precedence.
Others teach as a full-time career, no longer involved in the live music industry.
The teachers at Performance High are in the middle. We are committed to teaching as a lifelong career, and we love what we do. But we still perform locally and regionally, and we're in touch with the local music scene.
We will be here for you for as long as you need us, as we're committed to a lifetime of both teaching and learning.
In-Person Private Voice Lessons
Customized private instruction in our Colorado studios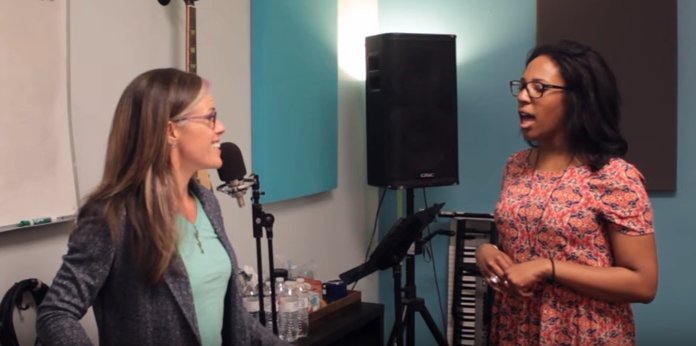 Privacy in our sound-proofed studios
Sing through a PA
Nail Every Note

membership included for free
Online Private Voice Lessons
Customized, convenient, and time-saving online lessons