Why Take Private Voice Lessons?
If you're here, you already know private voice lessons are the best way to develop a great voice. But let's talk about it anyway.
You can save money by watching free videos and buying programs.  We do that too; we love to learn more tips and tricks.
But a good teacher will save you a lot of time.  A good teacher will evaluate your voice quickly and know what you should work on first.  (It's not the same path for everyone.)  A good teacher will guide you to do exercises correctly.  (Doing exercises wrong is worse than not doing them at all.)  A good teacher will be able to guide you through the "dip" in confidence that often accompanies changing well-worn but incorrect vocal habits.
It's not an exaggeration to say that a single lesson with a great teacher can change the course of your career, but a year of lessons with a mediocre teacher can leave you worse off than you started.
Vocal Instruction vs. Vocal Coaching
We are both vocal instructors and voice coaches.  A voice teacher teaches you the technical aspects of how to sing – things like how to breathe, how to support and project, how to get pleasing tone and good resonance, and how to sing smoothly across your entire range.  A voice coach helps you interpret your song, find your voice, make songs your own, and improve your performance.  We do either or both, depending on your needs, interests and goals. 
Our voice lessons do draw some elements from classical and modern vocal methods, but all of our teachers do teach mix.  This means that all of our voice teachers teach you to develop consistent tone and power across your entire range, rather than two separate registers that are difficult to navigate between.
Among all the vocal instructors at Performance High, we work with singers in almost all genres:  pop, rock,R&B, electronica, jazz, country, blues, folk, musical theatre, and metal.
Take a look at our vocal instructors and rates and see if you have a preference.  If you can't decide, we're happy to help match you with the right teacher.  
What We Do in Voice Lessons
In your first lesson, you and your teacher will chat so we understand what you like and dislike about your voice, why you are taking lessons, and what you want to get out of them.  Then we'll do a 15-20 minute evaluation using vocal warmups and exercises to explore your voice and learn which areas you will benefit most from working on first.  We also like to hear you sing a song or two, since oftentimes people sing songs very differently than they do exercises.
We often work on things like smoothing your break; singing with power and resonance but less strain; singing with more consistency from note to note and day to day; improving tonal quality; being more expressive; polishing pitches, riffs, and runs; extending range; harmonizing; and developing a unique sound.
In subsequent lessons, we spend less time talking at the beginning.  We may also cut warmups a little shorter if you have already done some that day.  We usually will want to do at least a few minutes of exercises, though, to make sure your voice is "set" in a good coordination before moving into working on songs.
Rates vary by teacher, lesson length, and payment plan.  You can take half-hour, 45-minute, or hour lessons.  You can pay by the lesson, by the month, or by the 4-month period.  Save 5% by paying by the month.  Save 10% by taking lessons by terms.  See more details on our Rates page.
Most adults take weekly or bi-weekly hour-long lessons, although some – particularly experienced adults who know how to warm up their voices effectively – take half-hour lessons.
Pre-teens and young teens usually take weekly lessons.  Younger students often take half-hour lessons; older teens often take hour lessons.  We suggest shorter lessons more frequently for shorter attention spans.
45-minute lessons are also available upon request.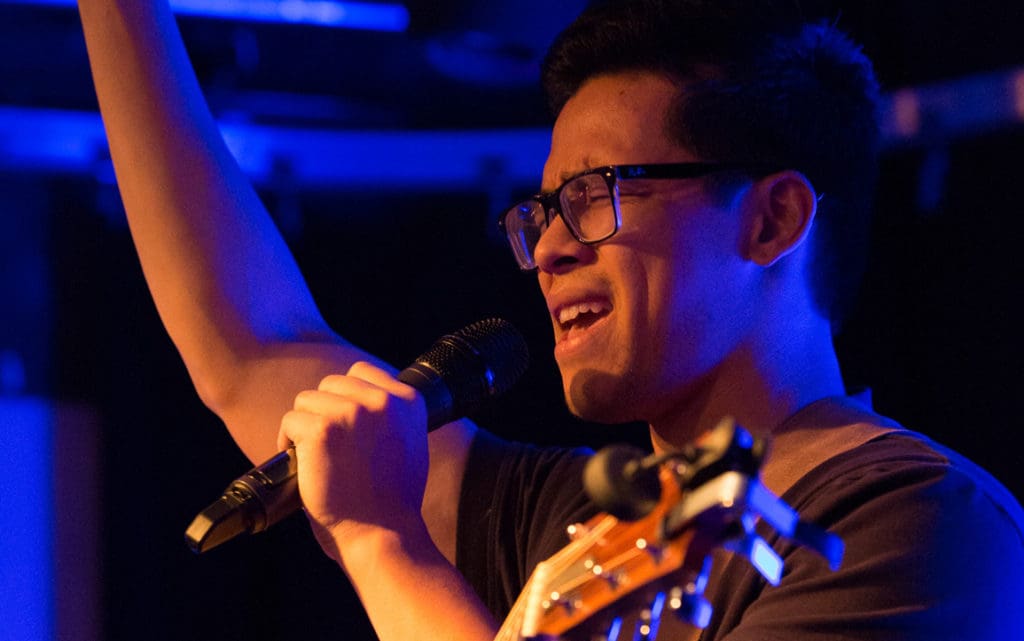 Skype Lessons
Yes, some of us do Skype lessons.  We usually prefer to work with you in person if you're nearby, but if not, we're happy to meet online!  We can meet on Google Hangouts, FaceTime, or Skype.
Our Promises
We seek to understand your reasons for taking lessons and tailor your lessons to reach your goals.
We seek quick results while still helping build healthy habits over the long term.  
We respect all genres of music.
You and your voice are safe with us.  Although you will be stretched, our studios are safe zones.
Lessons will be fun and relaxed, but efficient.  We value your time.
You get to sing what you want. (If you select a song way beyond your current ability, we may suggest circling back to it at a later time.)
More Than Just Voice Lessons
Sure, we teach people how to sing.  But that's really just the tool.  What we really teach is personal growth.  Belief in self.  Possibility.  Opportunity.  Change.  Crossing bridges.  And learning how to learn.  Adrienne talks about this in the video below.