Performance High's May 17 showcase will be at the Walnut Room.  For more information, go here.
Related Posts
We are so excited to announce Performance High's first-ever Pop Choir, coached by vocal teacher Joe Mondragon! This is a great opportunity to make some new friends and learn to sing beautiful harmonies in a low-pressure, collaborative environment. The best part is, no experience or audition is required! Participants will learn pop and rock songs […]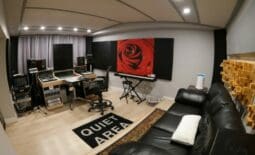 Through a partnership with Hyperthreat Studios, we now have openings for students in Parker, Colorado. We are so excited to expand our reach and become part of the musical journey of even more amazing artists!To book a spot at our new location, contact us.
The March 6 Student Band Concert was a huge success!  Our beginner adult band Sudo, backed up by professional musicians, looked and sounded more confident than ever.  Our teen band, the 2 O'Clock Club, pulled off their second show with solid performances on keys and top-notch vocals, backed up by student bassist Eva and coaches […]