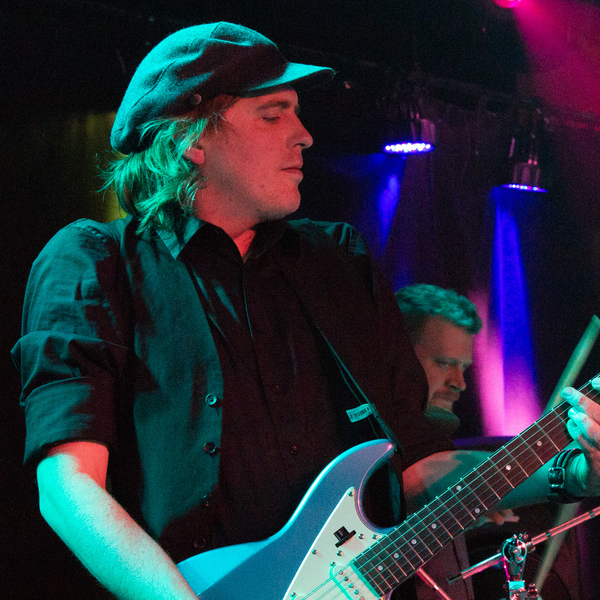 About Justin
Justin Leighton Long is a musician, engineer and producer who has worked in various styles including blues, country, rock, rap and pop.
As a recording engineer and producer, Justin has worked for bands signed to labels including Atlantic, Elektra, Immortal, Wind Up, Curb, Blind Bat, S-Curve, Victory, Blues Legacy and J Records.
He was a founding member, lead guitarist and songwriter for the band No Address, which released Time Doesn't Notice on Atlantic Records. Their debut single "Sadie (When I'm Gone)" stood at #11 on the Billboard Radio charts for 22 weeks. No Address toured North America extensively, opening for bands such as Three Doors Down, 303, and Breaking Benjamin, for almost two years.
In the early 2000's, when the music industry was undergoing rapid change, No Address was one of the only two indie rock bands – out of 52 – that Atlantic retained on their roster. Part of the reason they stayed on-label was Justin's successful effort to write, record, mix and master an entire extra 19-song album in the 21 days before they went into the studio to record their contracted album.
As a songwriter, Justin has a talent for helping new songwriters find their voice, and experienced songwriters take their songs to the next level. His compositions have been featured in feature films and television series, as well as continuing to maintain airplay around the world.

Justin is currently Producer/Guitarist for Cody Qualls, Lead Guitarist for The Petty Nicks Experience, and Producer/Songwriter/Guitarist for electronic rock band Adrienne O.
With decades of experience running live sound, recording in professional studios (even back in the days of tape!) and playing live shows as a guitarist, bassist, keyboardist, and drummer, Justin has a deep understanding of what goes into making a good set, a good performance, and a good show. He has analyzed performances at thousands of shows over the past 35 years of performing and running sound to develop core stage performance concepts that are both universally applicable and flexible depending on the artist.
"Working with Justin was a fantastic experience that expanded my horizons as a producer and a musician. Justin's depth of experience allows him to address big picture problems and help take songs from 'good' to 'great.' He has the ability to take you out of your comfort zone and make you take a sober look at your sticking points while still being a lot of fun to work with. It is invaluable to have a set of outside ears that you can trust. I really look forward to working with again Justin soon."
"I was excited, but very nervous about recording two demo tracks in one day during my first recording session. Luckily for me, Justin was an excellent producer throughout the process. He not only knew how to calm my nerves and coach me to bring out my best voice in the studio, but he really went the extra mile prior to us even meeting. He created a background track for me from scratch overnight when I found out that the song I really wanted to sing didn't exist in an instrumental version, and insisted that this was not a problem just around the time when I was ready to settle for a different song! I feel so fortunate to have been able to record tracks that felt very comfortable with at my session, and Justin is 100% to thank for that! He truly takes pride in his work, and I am so happy with the final products!" 
"Jacob has been working with Justin now for 4 months.  Prior to working with Justin, Jacob spent a year under the instruction of a very well known song writer with multiple contributions to his credit on several gold and platinum records.  After a year I noticed that Jacob's passion for song writing dwindled and he had not made much progress, so we decided to schedule some sessions with Justin.  After three sessions with Justin, Jacob seemed to have a 'spark' and passion about song writing that never existed.  I am not sure exactly what it was, but all of the sudden, Jacob was spending a lot of time writing on his own initiative (because he wanted to!).  […]  I asked Jacob why he likes to work with Justin.  Jacob said 'because he is fun, patient, kind, helpful and easy to talk to.  He listens when I talk and explains things in a way that I understand them and I always know what I need to accomplish before our next lesson together'.  My son has received a lot of music industry instruction in the past.  I must say that I am amazed at what Justin has done with my child and I emphatically recommend him."
"I'm OBSESSED! I have been working with both Adrienne and Justin for the past year on vocal training, performance training, and production. I have improved tremendously, and I'm more confident in my abilities as an artist. The instructors at Performance High believe in their students and provide numerous opportunities, workshops, and outlets for students to practice, learn and grow.
My passion and love for music have grown exponentially!
Highly recommended!"
"Justin is an amazing instructor. He put music to my daughter's first song ever written in an hour. He is an outstanding guitarist who does the musical arrangements for the showcases. He is a caring and dedicated instructor who wants to see his students succeed."
"Justin has the rare gift of listening to the frustrations a student is experiencing and turning them into exercises that intrigue and engage. Now I am learning something and having fun at the same time."
"Justin was hired as a songwriting coach, but has also been doing some informal coaching for the band. He gives the band members the tools they need to accomplish their goals, breaking it down into individual tasks to make it easier and more manageable. He gives them ideas when they're stuck, and new ways of looking at things, whether it's a song they've been playing for a while, or a new riff, lyric, or melody, giving them motivation to move forward and guiding them toward their goal, and basically keeps them on track. He gets to know each member's learning style and adjusts accordingly."