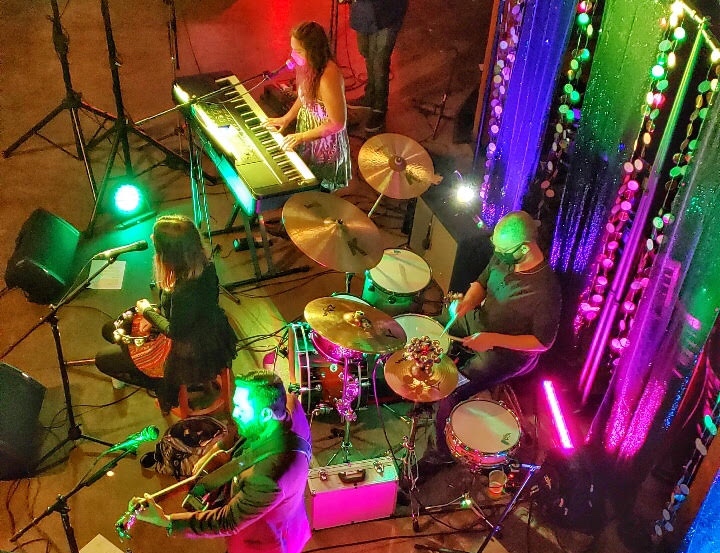 Join a Band With Like-Minded Musicians
Want to join a band, but not sure where to start?
Don't want the hassle of finding band members, rehearsal space, and gigs?
Join one of our All-Ages Bands and all that is taken care of for you.  All you have to do is rehearse and play shows!
Private lessons are great for building skills, but playing and performing in a band adds an additional layer of fun, excitement, and camaraderie. But it can be hard to start a band on your own, plus booking shows can be hard.
All the hard stuff is taken care of you in our All Ages Bands. We provide the rehearsal space, the coach, the gigs – and even professional musicians to fill in as needed! You show up, rehearse with your band coach, and perform shows in front of cheering, enthusiastic crowds at our regular live band showcases.
WHAT'S IT LIKE?
At Performance High, we nurture a supportive, enthusiastic, fun, respectful culture. We accommodate everyone's unique musical tastes while collaborating as a group, supporting and encouraging each other, and growing together as performers.
The best part is playing shows to gigs at local venues in the Denver metro area several times per year!
WHAT WILL I LEARN?
The curriculum includes:
Covering existing songs
Writing original songs
Music theory
Singing harmonies
Playing hand percussion
Creating a kicking set list
Stage performance skills
Learning roles of different musicians in the band
Playing real shows at real venues with an enthusiastic audience several times per year!
WHO IS IT FOR?
Whether or not you are taking lessons at Performance High, you are welcome to join a band!
We have a beginning band and an intermediate band.
Both instrumentalists and vocalists are welcome. All levels welcome, including total beginners.

Feel free to talk to us and drop in on a rehearsal for free before deciding.

ARE PRIVATE LESSONS REQUIRED?
No, but we recommend them for beginners. And you get a discount on band fees if you are also taking voice or instrument lessons at Performance High.
Registration and Schedule
Rehearsals: 7-8:30pm Wednesdays. Open slots available for guitar, piano, and vocals.
FEES: $170/mo, first rehearsal is free
LOCATION 
REGISTRATION
Contact us at inquire@performancehigh.net to schedule your free drop-in