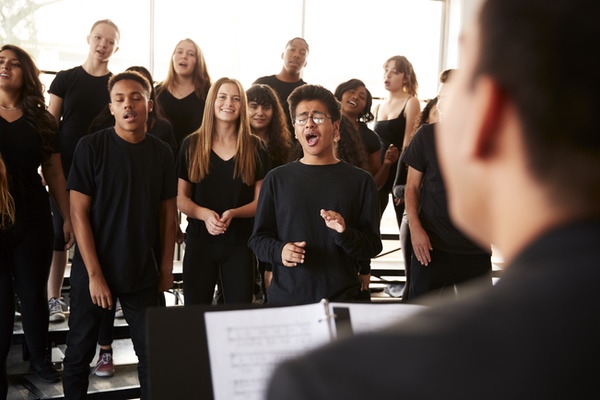 Want to sing popular music with other teens?
Learn to sing beautiful harmonies in a group?
Develop your musical skills in a fun environment?
Make new friends?
Do all this, and then perform with a live band? 
Teen Pop Choir is for you!
It's a pop choir… backed by a live band! 
The curriculum of our this summer music camp intensive is designed with a popular music focus, including commercial vocal techniques and styles, college/state choir prep, ear-training and sight-singing, music literacy and theory fundamentals, and performance skills.
Learn from our experienced coach Joe Mondragon, a musician with 17 years of experience, who has previously directed pop/rock choirs such as Voices Rock.

Final rehearsal and performance with a live professional band

Solo opportunities

Access to sheet music and recorded practice tracks for further musical development

Connect with your coaches and choir friends between sessions through our own social network

All levels of experience. No audition. No private lesson requirement.

Opportunity to perform at iconic venues like the Oriental Theatre or the Hard Rock Cafe, at one of Performance High's showcases!
Registration and Schedule
SCHEDULE 
Lafayette Pop Choir: July 17-21 (M-F) 10am-2pm 
Denver Pop Choir: July 31-Aug 4 (M-F) 10am-2pm
LOCATIONS
Lafayette Pop Choir:
Dog House Rehearsal Studios, 525 Courtney Way, Lafayette CO 80026 
Studio 1 at 3131 Walnut Street, Denver CO 80205 –
Get Directions Here
ONE-TIME FEE: 
 $425
REGISTRATION
Click the button below or contact us at inquire@performancehigh.net.
Have questions or need help?
Contact us.