Teen "Learn to Play" Band Camp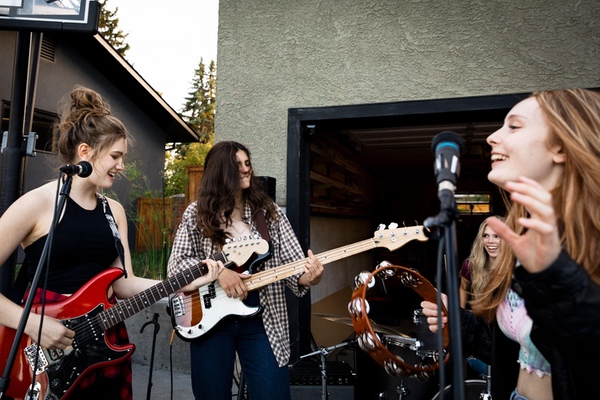 Want to join a band with other teens…
but you don't play any instruments yet?
Do you already play one instrument,
but you're curious about the others? 
 "Learn to Play" Band Camp is for you!
In one immersive band camp week, you will get experience on vocals, guitar, bass, keys, and drums. Then put your new skills as a multi-instrumentalist and singer into practice, form a band, learn a couple of fun songs, and play for friends and family on Friday! 
You bring your enthusiasm. We provide the instruments, the rehearsal space, the coaches, and the gig!
Learn from our experienced coach Joe Mondragon, a songwriter and band coach with 17 years of experience.  
Vocalists and instrumentalists of all levels are welcome 
Final performance in a professional setting

We provide the instruments – no purchases or rentals. Try every instrument without commitment!

Connect with your coaches and choir friends between sessions through our own social network
No entrance audition. No private lesson requirement.
Opportunity to perform at iconic venues like the Oriental Theatre or the Hard Rock Cafe, at one of Performance High's showcases!
Registration and Schedule
SCHEDULE
Broomfield/Lafayette: July 10-14 (M-F) 10am-2:30pm
Denver:
 July 24-28 (M-F) 10am-2:30pm
LOCATIONS
Broomfield/Lafayette Band Camp:
Our Broomfield studio at 6811 W 120th Ave, AND
Dog House Rehearsal Studios, 525 Courtney Way, Lafayette CO 80026
Studio 1 at 3131 Walnut Street, Denver CO 80205, 

AND
Band Cave, 5929 38th Ave, Denver, CO 80207
ONE-TIME FEE: 
 $475
REGISTRATION
Click the button below or contact us at inquire@performancehigh.net.
Registration for 2023 summer camps is now closed.
Have questions or need help?
Contact us.