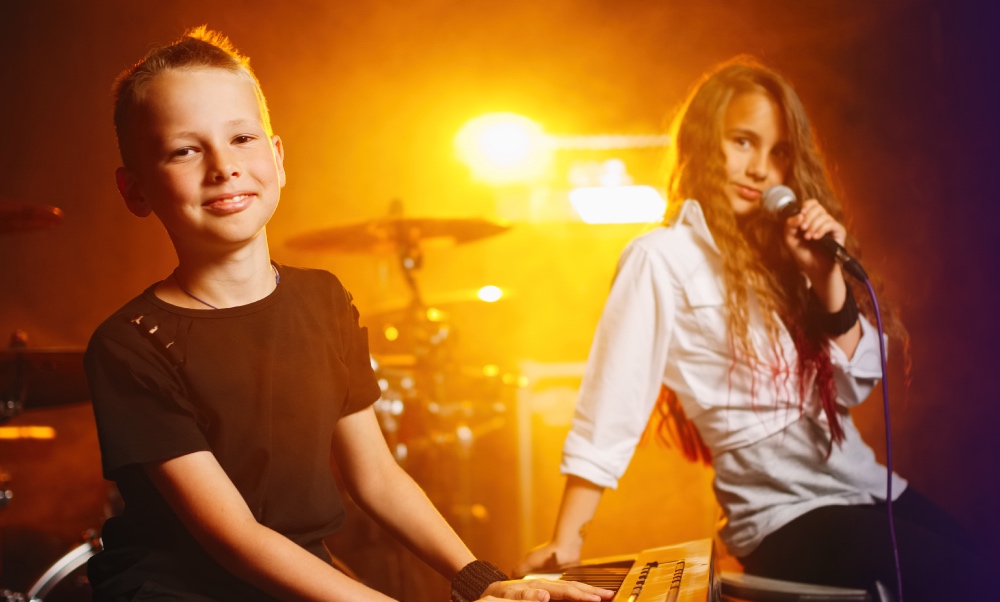 Fun and Confidence-Building
Private lessons are great for building skills, but playing and performing in a band adds an additional layer of fun, excitement, and camaraderie.
So we are kicking off our third band this fall – a band just for teens!
What's It Like?
At Performance High, we nurture a supportive, enthusiastic, fun, respectful culture. Our teen band is a way for teens to not only learn to play music together, but collaborate as a group, support and encourage each other, and grow together as friends while they prepare to play real gigs at local venues in the Denver metro area.
What Will My Child Learn?
The curriculum includes:
Covering existing songs
Writing original songs
Music theory
Singing harmonies
Playing hand percussion
Creating a kicking set list
Stage performance skills
Learning roles of different musicians in the band
Playing real shows at real venues with an enthusiastic audience several times per year!
Who Is It For?
Whether or not your child is taking lessons at Performance High, they are welcome to join a band!
Teen bands are great for 13+ performers. Advanced pre-teens are also welcome.

Both instrumentalists and vocalists are welcome. All levels welcome.

Ask us if a band is right for your child. Feel free to drop in on a rehearsal before deciding.

Are Private Lessons Required?
No, but we recommend them for beginners. And you get a discount on band fees if your child is also taking voice or instrument lessons at Performance High.
Registration and Schedule
Schedule:
Our next sessions of teen band will be in summer 2023. We will likely offer both once-a-week and full-week intensive band experiences.
Singers and instrumentalists of all levels are welcome.
One-time fee:
TBD
LOCATION 
REGISTRATION
Contact us at inquire@performancehigh.net
Minimum 5 teens
Have questions or need help?
Contact us.