We have offered online lessons for years.  In fact, some of the best lessons I (Adrienne) have ever taken have been online.  But as of March 2020, we're really getting into the swing of online lessons!
We primarily use Zoom, as we find that it's generally the most reliable free tool available.  But FaceTime, Skype, or Google Hangouts can work well too.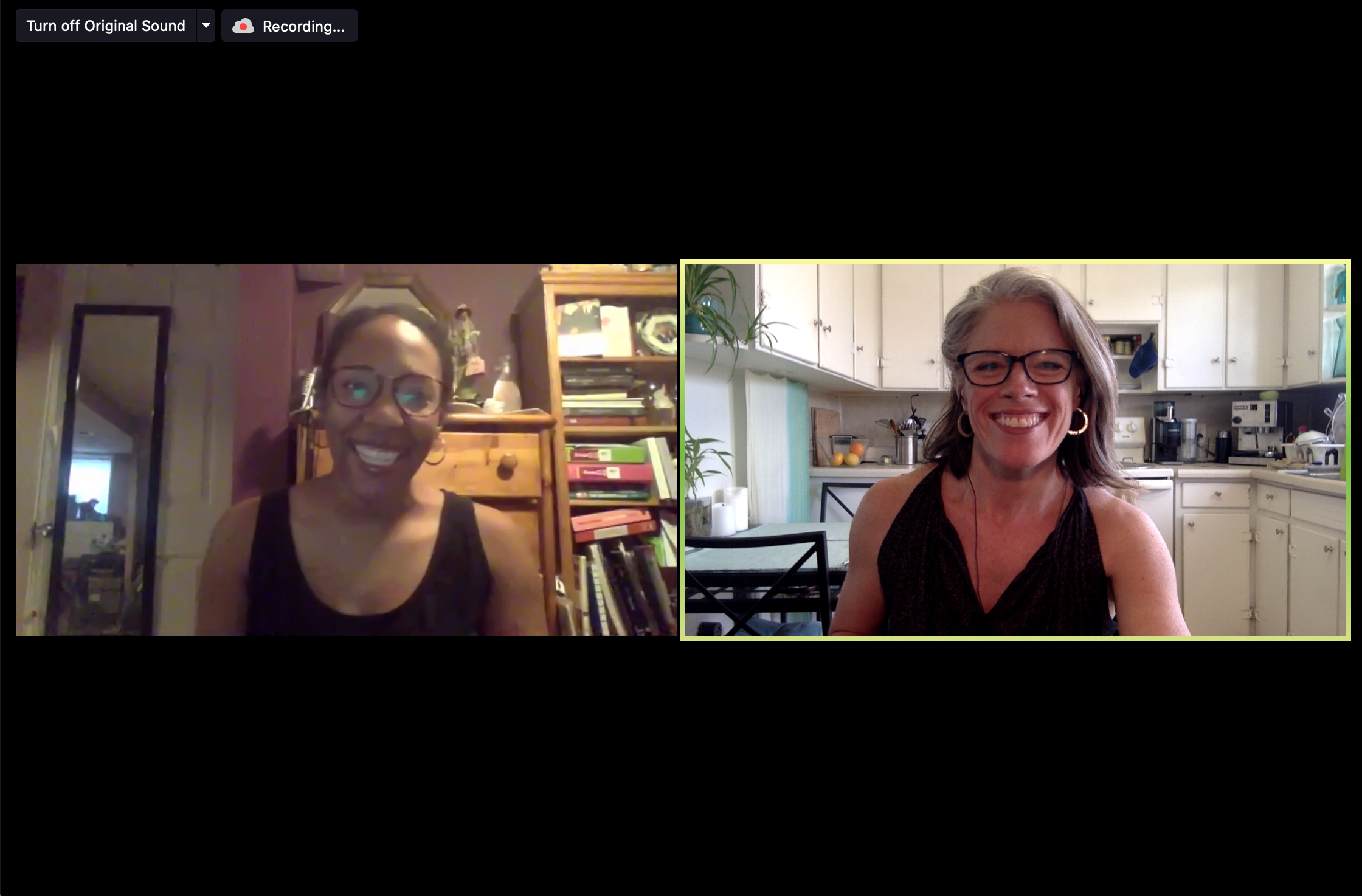 Advantages of Online Lessons
While we do prefer in-person lessons, there are some advantages to online lessons:
No commute to the studio!  Save time and money by taking lessons from the comfort of your own home. 
Recording your lesson on video is even easier than it is in person, because in Zoom we can record directly to the cloud and then send you a link afterward.  No need to transfer huge video files person-to-person.  You can better see what you're doing, and easily refer back to breakthroughs.
You can continue working on your song or exercises immediately, because you're already warmed up and aren't rushing off to go to the next place.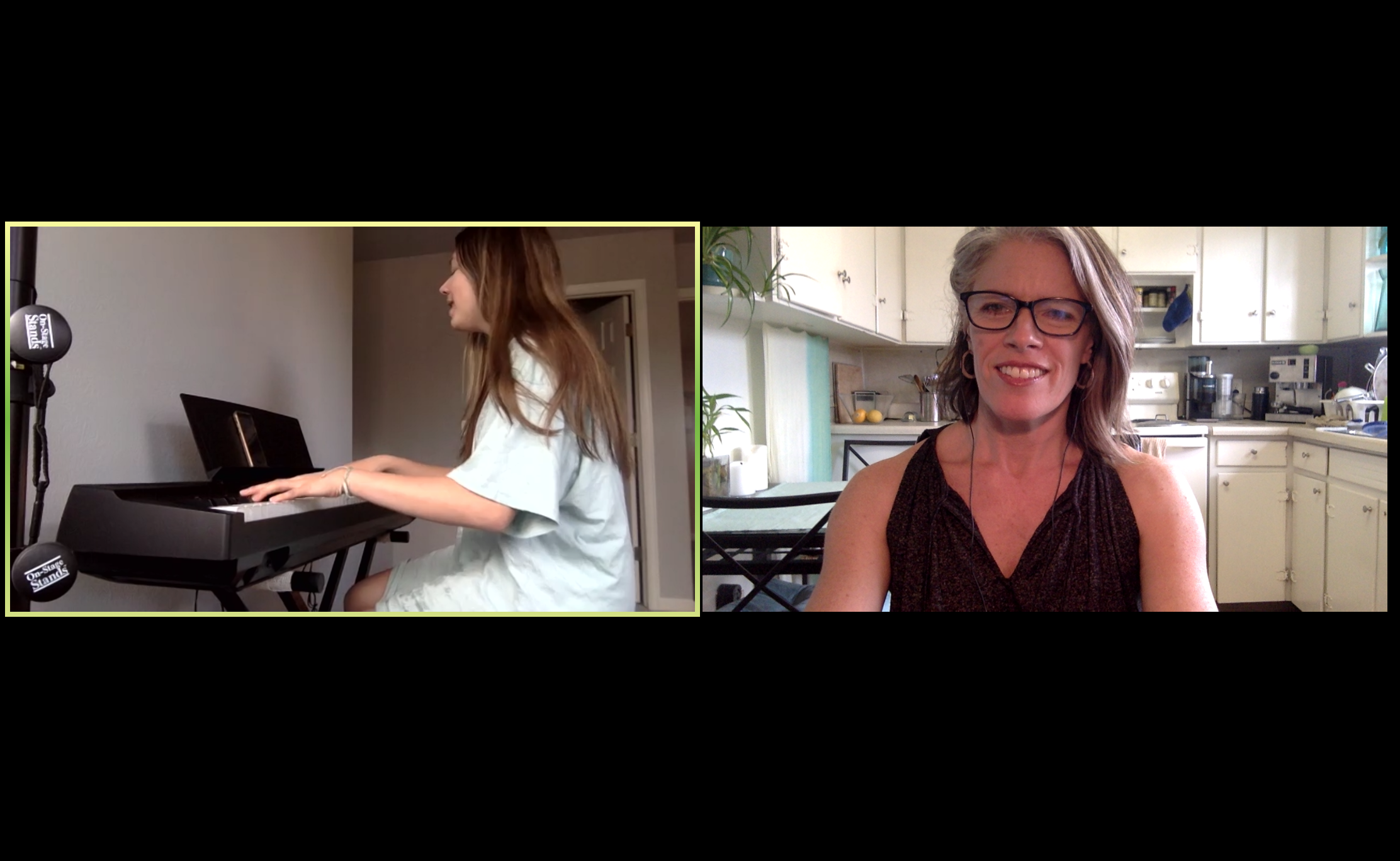 Tips for Great Online Lessons
The main drawback to online lessons is that even while technology brings us together, it can also be a little annoying if it's not set up well. Here are tips for great online lessons:
Have a Second Device Handy to Play Your Track – Some combinations of device and software don't play well together and it may be hard to hear the lesson and your track on the same device.  (This is optional for some, though – I have no problem running Zoom and YouTube at the same time on my Macbook.)
Charge Your Devices – it's no fun if you're watching your tablet or phone dwindle to 5% during your lesson!
Cue Up Your Tracks – If you know which songs you're going to work on, cue up tracks before the lesson starts so you don't spend valuable lesson time searching for tracks. 
Fast Internet – Be on WiFi if possible, not cell service (unless it's 4G or 5G).
Plenty of Bandwidth – See if other members in your household can pause high-bandwidth activities, such as watching Netflix, while you're taking your lesson. If you bump up against your bandwidth limits, you'll probably experience some delays.
Hardwired Connection – If you have the ability to hardwire into a router, that's great – but most of our teachers and students don't, so don't stress out if your device can't easily hardwire to your router.  This is a geeky bonus option – great if you can, but don't worry if you can't.
Zoom Settings – Tweaking a few settings can help your teacher hear you better. Once you have signed up for a free account and downloaded Zoom to your device, here are some settings to change:
If your teacher has allowed it, you may see a control in the upper left corner of the meeting room that says "Turn on original sound". Yes, do that.
Make sure your input level is high enough.  Here are instructions for Windows 10 and Mac. If those instructions don't help, search for "change microphone input level [ insert your device here ]"
If you're on a Mac, turn OFF "Automatically adjust mic settings" by going to the Zoom.us menu while you're in a meeting, then Settings -> Audio.
Find a Good Place to Have Your Lesson – Sitting cross-legged on your bed and looking down at your phone is not going to result in a very good lesson!  Try to find a place with a little privacy where you can stand AND place your device at chest or eye level. 
Be Patient.  If you're new to online lessons, there might be one or two things to iron out at the very beginning. But it usually doesn't take long, and then you're set forever!