Musical Instrument Lessons
Learn Guitar, Piano, Bass, Drums, or Ukelele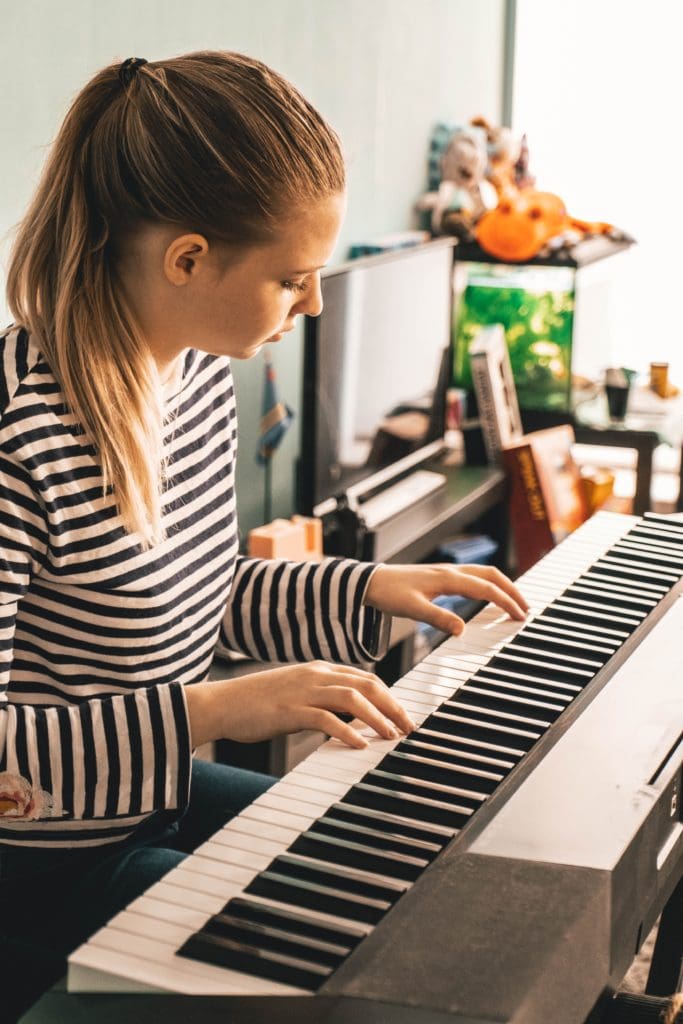 Want to accompany yourself?  Want to write songs… the music too, not just the lyrics?  Want to play in a band?  Want to join our Wednesday night jams and do more than sing?
Performance High offers instrument lessons in guitar, bass, ukelele, piano, and drums with our teachers Justin, Joe, and RaeLynn.  We have all instrument lessons available in all locations (except drums are in Denver only).
Beginner through advanced students welcome.  And if you're a student at Performance High, you can come to our free biweekly jams and get better faster!
Discover how your favorite songs can all be played with just a few simple techniques
Get the hang of playing and singing at the same time
Improve quickly, even if you don't have much time to practice
Experience how much fun practicing can be
Gain confidence quickly – even if you are a total beginner
Get ready to book solo gigs or join a band… in months instead of years
Recognize which chords fit songs you have already written
Accelerate your songwriting by writing on an instrument
Join others in playing music!  We're starting rock band groups in 2020, so start taking lessons now!
Your first MONTH of half-hour lessons is just $60.  That's 50% off!  If you don't want to continue after that, there's no obligation – just tell us you want to cancel. Otherwise, you'll continue at $120/mo for 4 half-hour lessons.  
Myth: Learning to play an instrument is hard work.
Learning to play instruments is fun – especially when you get to try out your skills by jamming with others!
Myth: It takes a long time to get good.
It takes a long time to get great.  It doesn't take a long time to get good.  Even a few minutes of practice a day really add up.
Myth: I don't have enough time to practice.
If you have just 15-30 minutes a day, you'll see progress!
Myth: I'll never have time to learn all the chords.
Most popular songs use only a few chords and chord patterns!
Myth: You have to learn your scales and chords first, before you can start playing songs.
Nope. You can play songs first, and then learn some scales and chords if you ever feel so inclined. Or not.
Rates and Availability
Rates:  A la carte:  $60/hr, $30/half hour.  5% off for paying monthly for weekly lessons
Availability:  Denver and Broomfield locations almost every day of the week