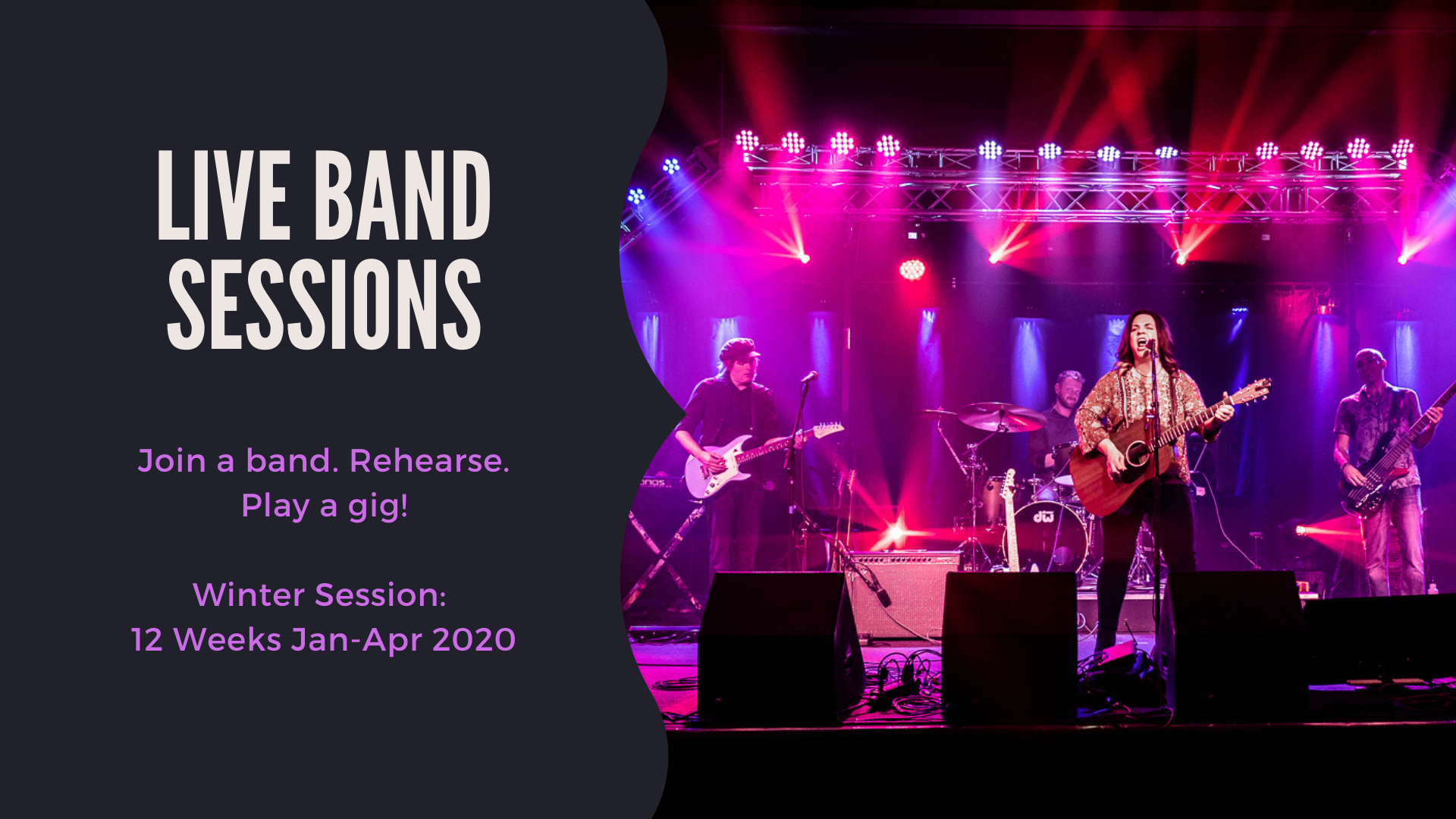 Join a Band With Like-Minded Musicians
Want to join a band, but not sure where to start?
Turned off by the hassle of finding band members, rehearsal space, and gigs?
Introducing Live Band Sessions
Each Live Band Session is a 12-week live band experience of coached weekly rehearsals with like-minded adult or teen musicians, culminating in a public gig at a well-known Denver venue.
Registration for this session is now closed.
Who Is This For?
This is for anyone who would like to join a band, rehearse weekly, and play a fun gig – whether you're an instrumentalist or vocalist, beginner or advanced.
We welcome all ages 13 and up.  (If you're looking for a kid-oriented experience, there are better places to go.)  If you're a teen, a 20-something, pushing 40, or even if you're looking at 70 in the rearview, we're the place for you!  
What Will My Band Be Like?
Well, first of all, we have a pretty cool culture at Performance High.  We like to have fun, we respect the growth process, and we respect people regardless of gender, sex, race, ethnicity, or age.  So we're looking only for people who want to be part of that kind of community.
To help us assemble groups that'll have a blast playing together, when you register you'll tell us things like your experience in music, your musical preferences, your broad age range, whether you're interested in writing originals or would prefer to focus on covers, and what you're looking to get out of the Live Band Session experience.  This will help us group bands into like-minded groups with positive dynamics.
We also assemble groups based partly on experience level.  If you're a beginner on your instrument, you must take lessons concurrently with the band session, whether at Performance High or elsewhere, so your skills grow along with your band mates.
We want to meet you in person before placing you in a band – either a quick meet-and-greet with a coach at the studio, or at a jam session which we hold about every other Wednesday night.
Most bands include bass, drums, at least one guitarist, and at least one vocalist. Some bands include keys, or more than one guitarist and/or vocalist. But if there is enough demand for an acoustic group (i.e., no rhythm section), or an a cappella group (i.e. no instruments at all), we'll assemble it!

Since we can't predict who will sign up for each session, we can't guarantee to find a place for every musician in every session.  If we can't place you in the first session you register for, please hang tight and we'll try to place you in the next one!
Are Lessons Required?
Only if you're a beginner.  And you don't have to take them at Performance High, especially if you're already studying elsewhere.  But regardless of your current level, we offer a killer package deal on weekly lessons, and we have great teachers for all rock band instruments, so why not take advantage of it to get to the next level?  Your band members will notice the difference!
What Happens When the Session is Over?
It's up to you. If your band would like to keep using our rehearsal space, coaching guidance, and gig booking, you can re-up and do it again.  Or if you'd like to try again with a different group, just let us know when you re-register. 
Or, if you happen to find your musical soulmates and you guys want to spin off and do your own thing, we'll send you on your way with our blessings, thrilled that we could help it happen.
Registration and Schedule
SCHEDULE 
Summer 2020 Session runs three months, May-June-July.  Exact schedule depends on band members' availability.  Band rehearsals are 2 hours long, once a week.  The previous session rehearsed on Sundays – the summer session may do the same if it works for everyone.
LOCATION 
FEES
$190/mo for 3 months (12 weeks)
REGISTRATION
Registration is a Google form plus a $10 deposit. Registration for Summer Live Band Session is not yet open.