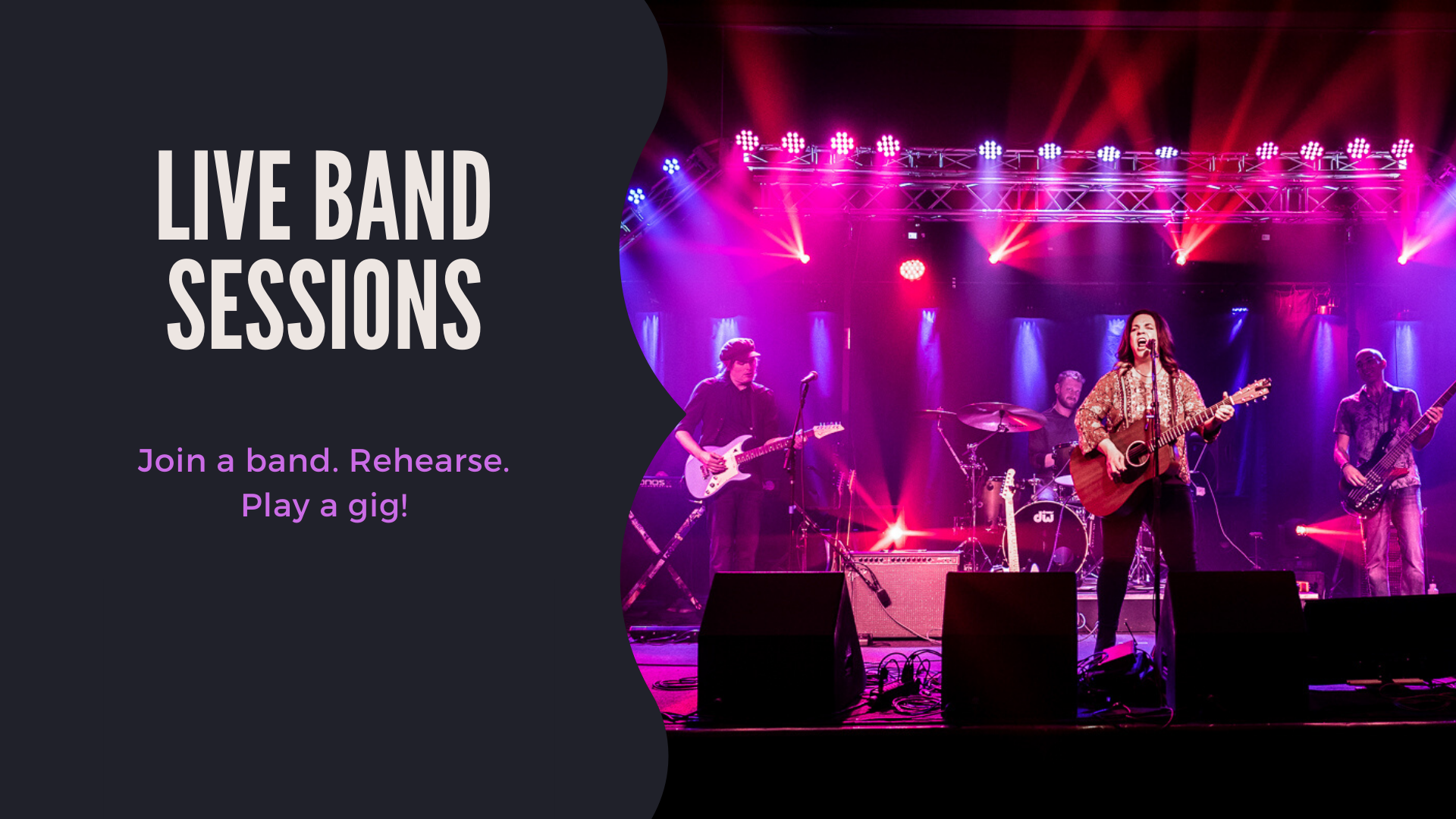 Join a Band With Like-Minded Musicians
Want to join a band, but not sure where to start?
Turned off by the hassle of finding band members, rehearsal space, and gigs?
Introducing Live Band Sessions
Live Band Sessions are weekly rehearsals with like-minded adult or teen musicians where we learn covers, write originals, learn to sing harmonies, and build a compelling show to perform live, all under the guidance of an experienced coach.  
Who Is This For?
This is for anyone who would like to join a band, rehearse weekly, and play a fun gig – whether you're an instrumentalist or vocalist, beginner or advanced.
We welcome all ages 13 and up.  (If you're looking for a kid-oriented experience, there are better places to go.)  If you're a teen, a 20-something, pushing 40, or even if you're looking at 70 in the rearview, we're the place for you!  
What Will My Band Be Like?
Well, first of all, we have a pretty cool culture at Performance High.  We like to have fun, we respect the growth process, and we respect people regardless of gender, sex, race, ethnicity, or age.  So we're looking only for people who want to be part of that kind of community.
We want to meet you, and we're sure you want to meet us, before deciding it's a fit – so come to the first rehearsal for free to check it out!
Are Lessons Required?
Only if you're a beginner.  And you don't have to take them at Performance High, especially if you're already studying elsewhere.  But regardless of your current level, we offer a killer package deal on weekly lessons, and we have great teachers for all rock band instruments, so why not take advantage of it to get to the next level?  Your band members will notice the difference!
Registration and Schedule
SCHEDULE 
Join at any time. Rehearsals are currently Wednesday nights 6-8pm, but can potentially be changed for new members as needed.
LOCATION 
FEES
$160/mo for 4 rehearsals, $200 when there are 5 in a month, first rehearsal is free
REGISTRATION
Contact us at inquire@performancehigh.net to schedule your free drop-in