Brand new jam sessions for 2021!
While our showcases are a great way to sing any song you want, our new 2021 jams are fun, casual events designed give you the real-world experience you'll need to land a position in a working band, shine at open mics, or just get more comfortable singing in a live environment!
Each jam has a theme – dance hits, the Rolling Stones, Beatles songs, folk rock, country, 80's and 90's hits, open mic standards, and more.  The song list for each jam will be available well in advance.
Jam with us and you'll…
get comfortable performing in a fluid, un-rehearsed situation
learn standard repertoire to make it easier to network with musicians
learn how to direct and communicate with a band
hang out and perform music in a supportive community
How it works

Check the calendar and find a jam you want to sing at.
Learn some of the songs on the list for that jam.
Register no later than a week in advance.
Show up to Converge, hang out, network, and sing!
Fees
Studio members:  Free
Non-members:  $20
Location
Converge Denver, 3327 Brighton Blvd, Denver CO 80216
COVID-19 Safety
Converge is a large, high-ceilinged co-working space with windows, a garage door opening to mountain views, and an HVAC system that recycles air every five minutes.  We will always follow current COVID protocols in effect, such as social distancing, masks, and limited or staggered attendance.
Dates
Monthly dates.  See our calendar.
Song List
Each jam has a theme such as the Beatles, country music, blues, dance hits, folk rock, and more.  The list of songs for each jam will be on the studio calendar. Click on the event to see the event description.
How to Sign Up
Register below.  Registration for each jam closes when we hit whatever limit is in effect for gatherings at the time.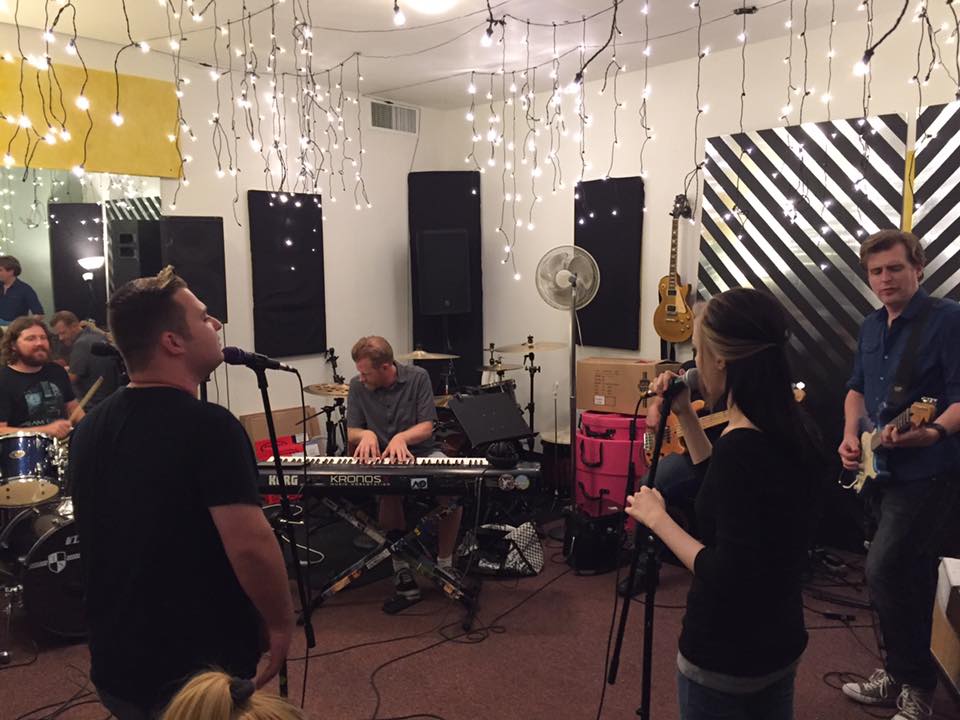 March jam:  Corporate/Dance Songs
24K Magic
Blurred Lines
Cake By the Ocean
Celebration
Don't Start Now (Dua Lipa)
Get Lucky
Happy
Hella Good
Feel It Still
Levitating (Dua Lipa)
Moves Like Jagger
Play That Funky Music
Shut Up and Dance
Treasure
Uptown Funk
April jam:  90's
All Star – Smash Mouth
Banditos – The Refreshments
Bitch – Meredith Brooks
Creep – Radiohead
Don't Speak – No Doubt
I Will Always Love You – Whitney Houston
High and Dry – Radiohead
Killing Me Softly With His Song – Fugees
Santeria – Sublime
Say It Ain't So – Weezer
Waterfalls – TLC
What I Like About You – The Ramones
Wonderwall – Oasis
Under the Bridge – RHCP
You Oughta Know – Alanis Morrissette
Zombies – The Cranberries
PAST JAMS (they'll come around again!)
February jam: Open Mic/Bar Band
Ain't No Sunshine
Are You Gonna Go My Way
Bad Moon Rising
Cocaine
Crossroads
Down on the Corner
Have You Ever Seen the Rain
House of the Rising Sun
One Way Out
Mustang Sally
Seven Nation Army
Superstition
What I Like About You
Walking on Sunshine
Use Me