Singing and yoga both revolve around breathing low into the body. So, we teamed up with our girl Ivory at ShakaChakra to provide you with five easy yet effective poses to help with breathe control, lung expansion and more air flow. Get that blood flowing and oxygen going! Yoga has so many health benefits both physically and mentally, and even practicing ten minutes a day can make a noticeably positive impact. Follow her on Instagram at @ShakaChakra to get weekly motivation for health, wellness and nutrition.
Pose 1: Upward Facing Dog- opens chest and lengthens front body and neck. Take 3 deep breathes here with gaze upwards to feel full stretch and expansion of lungs.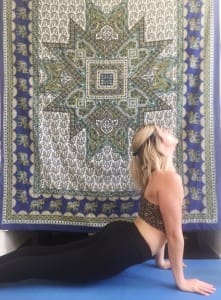 Pose 2 (connects with 3): Cow pose- from neutral spine expand chest, gaze up, drop belly and raise tail bone. Take 3 breathes alternating into cat pose. Expands lungs and Elongates neck and and throat.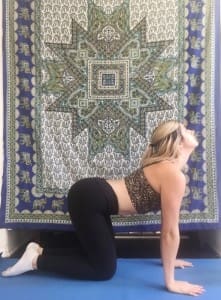 Pose 3(connected with 2): Cat pose- round shoulders, tuck chin into chest, bring in belly button to spine. Breathe 3 rounds of cat/cow.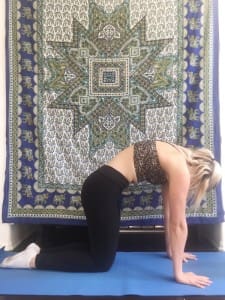 Pose 4: Reverse warrior- keep knee stacked over ankle and extend arm up and over. Keep ribs lifted and gaze up. 5 breathes will help to expand the lungs and regulate blood pressure.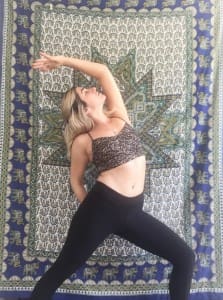 Pose 5: Supported back bend- from standing place hands on lower back. Take a deep inhale and slightly bend back. Feel the front body stretch and opening of the throat.